Onyemaechi Okolo, MD, ticks all three boxes that make a physician more likely to be the recipient of bias from patients – she's a woman, she's younger than 34 years, and she's not a White person (according to a 2017 patient prejudice report).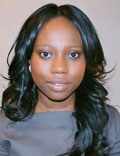 She recently illustrated how bias can play out in a short "one-woman show," which she performed for the virtual audience tuning into ASCO Voices. The storytelling event was part of the Educational Sessions of the American Society of Clinical Oncology's (ASCO's) annual meeting, held online this year because of the pandemic.
The 5-minute performance, which includes a fictionalized patient encounter, illustrates not only the bias Okolo frequently encounters but also the related self-questioning that can crop up. And it emphasizes her greater goal: to be seen, even by those blinded by preconceptions.
Okolo has a dual fellowship in hematology-oncology (where she is chief fellow) and integrative medicine at the University of Arizona.
In the performance, she played herself as well as a patient, Mr Smith, and an additional cast of unnamed patients at a cancer clinic.
Okolo: "Mr Smith, we discussed a lot today, and I know it can be overwhelming and a lot to digest, but I'm going to be here to walk the path with you ― thank you for allowing me the opportunity to take care of you. Do you have any questions for me?"
Mr Smith: "Hmmm. Well, not really. [Pause] But when am I going to see the doctor?"
Okolo (addressing the ASCO audience): "Imagine the composure it takes to not have a reaction ― not even a raised eyebrow. This is an all-too-common question for me. But I feel like I've become somewhat a pro at answering it. But before I answer, I do a quick mental questionnaire.
"Number 1: Did I introduce myself? Yes, I definitely did.
"Number 2: Does my name tag say doctor? Yup, that's still here. And it's not faded.
"Number 3: Am I wearing my white coat? Yup, and it's fresh from the cleaners ― bright white.
"Number 4: Did I just spend almost an hour reviewing diagnosis, images, pathology reports, health and lifestyle changes, and answering questions along the way? Yup, pretty sure that was me and we didn't sit here in silence.
"…So I say to him, 'Mr Smith, I am your doctor.' "
Reactions Vary; Opening Eyes
Shirlene Oboubi, MD, an internal medicine resident at the University of Chicago, can relate to this doctor-patient encounter. "That has been my experience [too]," she told Medscape Medical News in an email, after being asked for comment about Okolo's ASCO Voices piece.
But Oboubi said that "not being recognized as a patient's physician…doesn't bother me as much as I think others might suppose."
It's "more shocking" for other people who witness such a lack of recognition, she added.
Oboubi illustrates the point with the story of when she "sidled up to my senior resident to introduce myself to our new patient.
"I had a stethoscope around my neck, a name tag proclaiming me a doctor, and a Patagonia fleece with the UChicago crest on it ― almost exactly what my senior resident was wearing. The patient looked at me and attempted, multiple times, to hand me his empty food tray," she explained.
"My senior resident, a white woman and one of my favorite people on this earth, was mortified and corrected him, getting frustrated when he seemed to not understand," Oboubi concluded.
The Chicago internist in training, who was born in Ghana and moved to the United States at age 6, has grown accustomed to being a doubted, slighted Black person in White spaces.
Oboubi, whose comics have been featured on Medscape, has one outstanding criticism: "I do think the worst part of these experiences is realizing that people can be so stuck in their biases that they don't even think to search for context clues before verbalizing [their biases]."
In her ASCO Voices performance, Arizona's Okolo also discussed patients' reactions to the announcement that she is a doctor ― their doctor.
She described responses that range from pauses, body adjustments, blushing, and the unifying element of them all: "It's always wide eyed."
Opening eyes is what greatly motivates her, Okolo commented. "These encounters are opportunities to educate, to break stereotypes, to say, 'See me, I am here.' "
These encounters are opportunities to educate, to break stereotypes, to say, 'See me, I am here.'
Dr Onyemaechi Okolo
Sometimes the eye-opening is brusque, lacking a "politically correct filter," said Okolo. "Really? But you're a Black, a Black woman…. Isn't that something?" one patient responded.
Some of the other responses are "almost patronizing." For example: "Good for you!" And: "How modern." And: "That's something you don't see every day."
Patients are right, says Okolo, about her being a rare sight. "It's not something you do see every day," she acknowledged.
Black women make up only 2% of practicing doctors in the United States. And of the 20,000 practicing oncologists, just 2.5% self-identify as Black or African American, says Okolo, who was born in Nigeria and emigrated to the United States with her family at age 8.
Still, other patients appear free of prejudice and are "excited," saying: "I've never had a doctor that looked like you." And one said, "You are my ancestors' wildest dreams." Okolo feels the tribute: "My heart swelled."
Rarely, patients don't return for their follow-up appointment. Or they come back but ask to be seen by a different doctor. "I can guess why. But that's okay, too," Okolo said, graciously.
At the end of her performance, Okolo admitted to some self-questioning after being mistaken for some other kind of healthcare worker: "Once in a while I ruminate on encounters like this. Replaying the patient's reaction, trying to see for myself how they see me after the realization that this 5′ 4" Black woman is their doctor, their oncologist. It's interesting to me ― does it bother me?
"To be honest, I love both reactions," she continued. "Clearly, one makes me feel happy and warm, and the other not so much. But both drive me."
Okolo and Oboubi have disclosed no relevant financial relationships.
Nick Mulcahy is an award-winning senior journalist for Medscape. He previously freelanced for HealthDay and MedPageToday and had bylines in WashingtonPost.com, MSNBC, and Yahoo. Email: nmulcahy@medscape.net and on Twitter: @MulcahyNick.
For more from Medscape Oncology, join us on Twitter and Facebook.