[ad_1]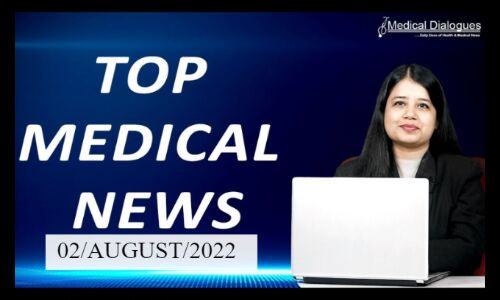 1. Increased heart disease risk from red meat
Chemicals produced in the digestive tract by
gut microbes after eating red meat may help explain part of the higher risk of
cardiovascular disease associated with red meat consumption, according to new
research published today in the American Heart Association's peer-reviewed
journal Arteriosclerosis, Thrombosis, and Vascular Biology (ATVB).
Previous research has found that certain
metabolites are associated with a greater risk of cardiovascular disease. One
of these metabolites is TMAO, or trimethylamine N-oxide, which is produced by
gut bacteria to digest red meat that contains high amounts of the chemical
L-carnitine.
Ref:
Meng Wang et. al, Arteriosclerosis Thrombosis, and Vascular Biology, 1-Aug-2022, 10.1161/ATVBAHA.121.316533
2. Prevention of recurrent kidney stones by a high calcium potassium diet
Changes in diet are often prescribed to
prevent recurrent symptomatic kidney stones. However, little research is
available regarding dietary changes for those who have one incident of kidney
stone formation versus those who have recurrent incidents.
Mayo Clinic researchers designed a prospective
study to investigate the impact of dietary changes.
Dietary factors were based on a questionnaire
administered to 411 patients who had experienced first-time symptomatic kidney
stones and a control group of 384 people — all of whom were seen at Mayo Clinic
in Rochester and Mayo Clinic in Florida between 2009 and 2018. The findings,
which were published in Mayo Clinic Proceedings, show that lower dietary
calcium and potassium, as well as lower intake of fluids, caffeine, and phytate,
are associated with higher odds of experiencing a first-time symptomatic kidney
stone.
Ref:
Andrew Rule et. al, Dietary Risk Factors for
Incident and Recurrent Symptomatic Kidney Stones, Mayo Clinic Proceedings,
1-Aug-2022,
3. Disordered eating in children
A new study of nearly 12,000 9- and
10-year-olds, published this week in JAMA Pediatrics, provides key insights
that help fill that gap. Researchers examined how age, sex, weight, and puberty
stage were related to behaviors such as binge eating and vomiting to control
weight.
"The first major takeaway is that these behaviors are more
common than we've seen before, with a prevalence of up to 5% in some cases,"
said the study's lead author, Stuart Murray.
Contrary to cultural assumptions, the researchers found
that boys and girls were equally likely to engage in disordered eating. The
analysis also revealed that children with higher body mass indexes (BMIs), as
well as those further along in puberty, faced an elevated risk.
Ref:
Stuart
Murray et. al, Prevalence of disordered eating and associations with sex,
pubertal maturation, and weight in children in the US, JAMA Pediatrics,
1-Aug-2022, 10.1001/jamapediatrics.2022.2490
4. Fast-acting immune cells which provide powerful protection against stroke
A unique subset of white blood cells confers
fast-acting and lasting protection against ischemic stroke in mice, University
of Pittsburgh neurologists and immunologists reported in the Journal of
Clinical Investigation today.
This study identified a novel subset of CD8+
regulatory-like T cells, or CD8+TRLs, as "first responders" to stroke.
Attracted to the site of ischemic injury by a unique "homing" signal released
by dying brain cells, CD8+TRLs reach the brain within 24 hours after stroke
onset, where they release molecules that provide direct neuroprotective
effects, as well as limit inflammation and secondary brain damage.
Because the previous two treatments must be
administered very early after the stroke, many people, especially those living
in remote areas, are ineligible for those therapies. The remaining 600,000
people are left with symptoms-based treatments and are at high risk of
developing long-term health complications, including mobility challenges and,
in some cases, speech and cognitive pathologies. In addition, blood
clot-busting therapy, in particular, has drawbacks that further limit the
number of people benefiting from such therapy.
Ref:
Xiaoming Hu et. al, Neuroprotection against
ischemic stroke requires a specific class of early responder T cells in mice,
Journal of Clinical Investigation, 1-Aug-2022, DOI: 10.1172/JCI157678
[ad_2]

Source link